MELIKE EROL-KANTARCI, PhD, P. Eng., SMIEEE

Associate Professor  

Founding Director, Networked Systems and Communications Research (NETCORE) Lab

School of Electrical Engineering and Computer Science

University of Ottawa

<![if !supportMisalignedRows]>
<![endif]>
<![if !vml]>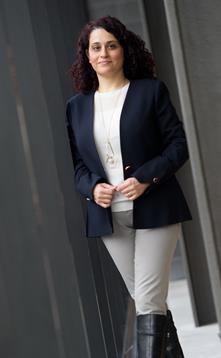 <![endif]>

Research Interests:

<![if !supportLists]>· <![endif]>AI-enabled wireless networks

<![if !supportLists]>· <![endif]>5G and beyond

<![if !supportLists]>· <![endif]>Smart grid and electric vehicles

<![if !supportLists]>· <![endif]>Wireless sensor networks

<![if !supportLists]>· <![endif]>Cybersecurity

<![if !supportLists]>· <![endif]>Wireless energy transfer

<![if !supportLists]>· <![endif]>Underwater sensor networks

<![if !supportLists]>· <![endif]>Localization

Mailing Address:

800 King Edward Avenue

Ottawa, ON  K1N 6N5

Office: SITE 5029

Voice:  613 562-5800    ext. 6693

Email: melike.erolkantarci@uottawa.ca

<![if !supportMisalignedRows]>
<![endif]>
Teaching

CEG 4186 Wireless and Mobile Networks (Winter2019/2018/2017)

CEG 3185 Introduction to Data Communications and Networking (Winter2019/Summer2017)

CSI 5140 ComNet-IPS: Communications and Networking for Intelligent Physical Systems (Fall2018/Winter2018)

ELG 5374 Computer Communication Networks (Fall 2016)

<![if !supportMisalignedRows]>
<![endif]>
News Coverage

CBC Radio - Quirks and Quarks Show

 

I'm always looking for highly motivated graduate students who are interested in pursuing research in wireless communications, machine learning, autonomous systems and smart grid! Prospective students should send me an email with their CV including their interest areas and academic credentials.

<![if !supportMisalignedRows]>
<![endif]>
Short Bio
Dr. Melike Erol-Kantarci is a tenured associate professor at the School of Electrical Engineering and Computer Science at the University of Ottawa, ON, Canada She is the founding director of the Networked Systems and Communications Research (NETCORE) laboratory. She is also a courtesy faculty at the Department of Electrical and Computer Engineering at Clarkson University, Potsdam, NY.
She is an influential researcher with more than 100 peer-reviewed publications, citations over 3800 and h-index of 30 (Google Profile).  She is the co-editor of two books "Transportation and Power Grid in Smart Cities: Communication Networks and Services" from Wiley Press and "Smart Grid: Networking, Data Management, and Business Models" from CRC Press. Her articles are continuously among the top cited and top accessed papers on IEEE and Elsevier databases. She is an editor of the IEEE Access, IEEE Communications Letters and a co-director for IEEE MMTC Frontiers. She is a senior member of the IEEE.
Prior to joining University of Ottawa, Dr. Melike Erol-Kantarci was a tenure-track assistant professor at the Department of Electrical and Computer Engineering at Clarkson University. Before that she was the coordinator of the Smart Grid Communications Lab and a postdoctoral fellow at the School of Electrical Engineering and Computer Science, University of Ottawa, Canada. She received the Ph.D. and M.Sc. degrees in Computer Engineering in 2009 and 2004 from Istanbul Technical University. During her Ph.D. studies, she was a Fulbright visiting researcher at the Computer Science Department of the University of California Los Angeles (UCLA). She conducted research on underwater sensor networks. Her PhD thesis study is supervised by Professor Sema Oktug from Istanbul Technical University and Professor Mario Gerla from UCLA. She received the B.Sc. degree from the Department of Control and Computer Engineering of the Istanbul Technical University.
She has received several Natural Sciences and Engineering Research Council (NSERC), National Science Foundation (NSF) grants, industry grants, Fulbright PhD Research Scholarship and Siemens Excellence Award, in addition to four Outstanding/Best Paper Awards. Her article "Energy-Efficient Information and Communication Infrastructures in the Smart Grid: A Survey on Interactions and Open Issues" received the 2017 IEEE Communications Society Best Tutorial Award. The award is given each year to one outstanding tutorial paper published in any Communications Society magazine or journal in the previous 5 calendar years. This article is also selected for IEEE ComSoc Best Readings on Green Communications. She is the co-author of the article Wireless Sensor Networks for Cost-Efficient Residential Energy Management in the Smart Grid which is selected to IEEE ComSoc Best Readings on Smart Grid Communications. She has delivered tutorials at IEEE ICC15, WCNC15, VTC14-Fall, CCECE14 conferences, and invited talks at various venues including Communications Research Center (CRC) of Canada, National Research Council (NRC) of Canada, IEEE Ottawa Chapter and Turkish Naval Research Center, totaling 30+ talks around the globe.
She is the Chair of the IEEE Technical Committee on Green Communications & Computing Special Interest Group (SIG) on Green Smart Grid Communications.  She is also the research group leader for IEEE Smart Grid and Big Data Standardization. She was the vice-chair for IEEE Ottawa Section Women in Engineering (WIE) between 2012 and 2014. She has been a general co-chair, TPC co-chair and has held other leading roles for many international conferences.
Her main research interests are AI-enabled wireless networks, 5G and beyond wireless communications and networks, smart grid and electric vehicles, cyber-security, wireless sensor networks, wireless energy transfer, underwater sensor networks, mobility modeling and localization.
<![if !supportMisalignedRows]>
<![endif]> <![if !supportMisalignedColumns]>