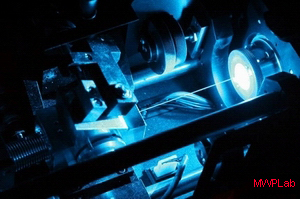 Microwave Photonics Research Laboratory (MWPLab) was established in 2002 by Professor Jianping Yao with funding from Canada Fundation for Innovation and Ontario Innovation Trust.

Microwave photonics is an inter-disciplinary field that studies the interaction between microwave and optical signals for applications such as telecommunications, radar, sensors and instrumentation. These applications are calling for ever-increasing speed, bandwidth and dynamic range. The applications also require small size, light weight, large tunability, and low power consumption. Digital electronics is the most widely used approach nowadays for these applications. However, its speed is normally less than several gigahertzes, limited by the electronic sampling rate. The unique capabilities offered by modern photonics for processing ultra wideband, high-frequency signals make it a promising alternative for wideband microwave applications.

The research activities in the Microwave Photonics Research Laboratory are focused on the generation, distribution, control and processing of microwave signals based on photonics. Examples include radio over fiber, radars, antenna remoting, and broadband phased array beamforming. Photonics also offers unique capabilities for processing of wideband and high-frequency signals, such as long and tunable time delay, spectrum analysis, frequency conversion, signal and waveform synthesis, microwave filtering, microwave channelization, microwave correlation, and data conversion. Another advantage of photonic processing is that the signal is processed in the optical domain. For applications such as fiber-optic communications and radio-over-fiber systems, it is convenient with this technology since there is no need to perform extra opto-electronic and electro-optic conversions, which would simplify the systems.

Research themes:


Photonic generation of microwave signals

Photonic processing of microwave signals

Photonic generation of arbitrary waveforms

Silicon photonics

DFB laser arrays

Radio over fiber

Fiber Bragg gratings

Biomedical microwave photonics

Microwave photonics sensors



In addition to the funding from Canada Foundation for Innovation (CFI) and Ontario Innovation Trust (OIT), the laboratory also received funding from National Capital Instituite of Telecommunications (NCIT), Natural Sciences and Engineering Research Council of Canada (NSERC), Canadian Institute for Photonic Innovations (CIPI), Ontario Centres of Excellence (OCE), and Bell Canada.